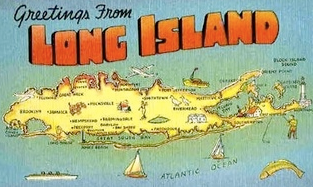 The mister and I recently enjoyed a fun weekend jaunt to the  North Fork of Long Island, where in only two days, we filled our Godzilla-sized Tahoe truck to the max, with antique pieces to die for. Here's a tour of the places we dug most, on our vintaging adventure:
Our first stop was beautiful Montauk Point, where we climbed large rocks up to a historic lighthouse (built in 1796), and gazed out onto the gorgeous horizon. We gathered up some seashells and driftwood, and then drove through Montauk's posh little shopping villages, which were more of the Ralph Lauren/Intermix ilk, than for genuine vintagers like us, although I did spot a Screaming Mimi's location, which was sadly closed for the season.  
We then drove onto the North Haven ferry, which shuttled us to Shelter Island, and upon arriving on S.I., we spotted a boutique located in a wonky little house called, Marika's, which was literally bursting with affordable finds. At Marika's, we purchased a large Victorian-era photograph of a woman in an ornate black oval frame ($30), a gorgeous black turn-of-the-century Hitchcock style chair with a woven cane seat, adorned on the back with a silhouette of a woman's face in worn gold leaf (about $75). We also purchased a bizarre voodoo-looking bird sculpture made of real horn, that had "Trinidad" etched into it ($15), which we felt creeped out by soon-after, and then had to trash after I accidentally dropped a hatbox on it the following day (I swear it was an accident). Marika's also boasts a parking lot strewn with awesome Victorian to mid-century outdoor furnishings, like '1940s white metal ice-cream parlour chairs, and large 1970s sculptures.
Driving around the island, we viewed one of the most magical sunsets I've ever seen, before checking into our B&B for the night,  called Stearns Point, which was cute, quiet, spotless, and the sweet owner, Marie, made us an awesome breakfast spread (with the scent of freshly baked muffins wafting through the house, waking us up like in a Folger's Coffee commercial). Marie also tends to many of the island's estates, so she also has the best S.I. celebrity gossip. Even though the outdoor grounds could use a few more trees, you can't beat it for the price. That evening, we had one of the best, most unforgettable dinners of our lives at Vine Street Cafe, where we pigged out on spring rolls, perfectly delicate tuna tataki, homemade buttermilk-fried chicken, and homemade coconut/champagne punch sorbet (we seriously entertained the thought of moving to Shelter Island, just so we can eat here every night).
After one night on S.I., we took another ferry to Greenport, which is a lovely little seaside town, circa the 18th century, which consists of antique shops, oyster bars, maritime themed shops, light houses, ice skating rinks, historic homes, art galleries, a gorgeous 1920s carousel, and more Victorian B&B's than you can shake a doily at.
Greenport
is a great place to spend a weekend, especially for antiquers, since you can drive 30 miles up and down
Suffolk County
's Main Rd., encountering dozens upon dozens of vintage shops along the way. Some of our favorites were:
Gallery 429
, where we got a large wooden tool box (circa early 1900s), which is now our art supply box ($115), a shabby 1930s white metal plant stand ($35), a highly detailed celluloid cigarette holder from the 1920s in the shape of a gargoyles claw ($95), and I got a fabulous 1960s Indian turquoise ring ($25). At
Willow Hill Antiques
we got a 1920s mahogany wood 6-drawer filing cabinet ($65), and a little wooden sewing box ($10). At
The Furniture Store Antiques
, where we bought a black 1930s mens hat box ($12), a mint condition peach 1940s rayon slip with lace bow detailing (about $15), and a crewelwork bohemian pillow ($30). At
Cracker Barrel
(no relation to the restaurant chain), we got a large tinted photograph of a Spanish soldier in a Victorian oval tigerwood frame with convex glass ($65), and at
Three Sisters Antiques
we got a French dictionary of symbols from 1927 ($12), and a book from 1892 called
How To Cook Vegetables
($12). At
Kapell's
, which owner David Kapell (who doubles as a Greenport real estate agent) curates in a really fun, stylish way . . . I particularly loved the way he displayed a collection of vintage figural top hat shaped planters and ice buckets on one tabletop. At Kapell's I bought a stack of great vintage NYC postcards ($10), and when we realized we were out of cash, he insisted we take the cards, and mail him a check when we got a chance. A real mensch, that guy.
For lodging in Greenport,  I highly recommend the historic Bartlett House, where the owners, Jack and Diane (for reals), make you feel like royalty, and the decor is totally over-the-top. We stayed in the truly bitchin' African Suite, and were delighted by the awesome breakfast buffet Diane orchestrated the next morning, equipped with everything our brunchy hearts desired, including bagels with cream cheese and smoked salmon, veggie quiches, and hot oatmeal. Diane also recommended one of the other best restaurant experiences we've ever had, at the North Fork Table, where we had cod & potato cakes,  shelled lobster in a light curry sauce, and juicy roast beef (which Nic can't stop raving about, and even looked good me, an almost-vegetarian). 
One of the funniest things for me, was watching my husband, who on the way to Long Island from NYC, was saying most grouchily, "no matter what anyone says to me, I'm not gonna partake in any B&B small talk about the weather, or where I'm from", but flash-cut to the next night, and he was had totally morphed into the perfect B&B guest, shoes off, reading The Sheltering Sky by the fireplace, calmly asking "can I help you bring some more logs inside, Diane?" and coming upstairs to our room, with trays of delft tea cups (I loved that).

P.S. Suffolk County's antiques district has a funny motto that I love . . . "Come visit us, forget today & relax in yesterday").

For photos of our trip, check out my "Long Island Vintage Adventure" gallery, found in the right column.

Vintage art courtesy of: Floyd Memorial Library, viseroy, and my personal collection.